Northern Ireland 'Craics' Fundraising!
We met with some of the inspiring winners at Hays NI Institute of Fundraising Awards 2018
Hays NI Institute of Fundraising Awards are an opportunity to celebrate the teams, individuals and organisations that raise millions of pounds for good causes across the North of Ireland every year. This year, The Institute of Fundraising Northern Ireland (IoFNI) achieved a record number of submissions, from a wide range of charities. The Directory of Social Change (DSC) jumped at the opportunity to spend the day with some of the award winners, exploring the challenges and successes of the Northern Irish charity sector.
Let us introduce you to some of the remarkable winners:
Bryan Walliker Volunteer/ Volunteer Group of the Year: Guide Dogs NI & Hilary's Hikers
Our first meeting of the day was with Hillary's Hikers. They are a team of 14 'puppy raiser' volunteers. With their family and friends, they decided that they would take part in a 16-day trek through the Himalayas to Everest Base Camp during Guide Dogs Week (Oct 2017), to raise funds for Guide Dogs Northern Ireland. 'Puppy raisers' look after and train guide dog puppies in their own homes for the first 12 – 18 months of the puppies' lives. Kath Munro, Puppy Training Supervisor, told us that 'despite having very little fundraising experience and enduring tragedies and illness along the way, the group managed to raise in excess of £35,000 for Guide Dogs NI in 12 months', and they continue with their fundraising efforts.
Their innovative approach to fundraising, combined with a savvy knack for PR and an absolute devotion to the charity has had an enormous impact in raising both funds and awareness for Guide Dogs NI. The funds raised by the volunteer group will make a huge difference to the estimated 50,000 people living with sight loss in the North of Ireland.
The impact that these pups have will be life changing. The pups are even more special as they have been named in memory of four much-loved family members of the team who passed away weeks before the trek – they are: Hillary, Connie, Vera, Munro and Annie.
To find out more about Guide Dogs Northern Ireland, click here.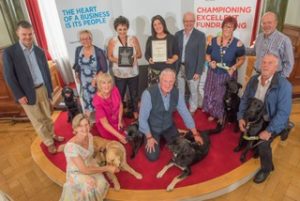 Campaign of the Year: Cash for Kids NI – Mission Christmas
Next up was our meeting with Darren Fowler, Cash for Kids NI's Regional Manager . Every November and December, Cash for Kids Northern Ireland delivers 'Mission Christmas'. The campaign was generated in response to the high number of children living in poverty in Northern Ireland – with figures as high as 1 in 4 children living in conditions where Christmas presents are luxuries that families just cannot afford. To ensure that 'no child goes without', Mission Christmas reached out to local communities to buy an extra gift for a child at Christmas.
'The campaign really is quite a challenge considering the large geographical area covered, the huge logistical exercise of moving physical toy donations around the country and the fact that most people donate just one week before Christmas – but it is an amazing campaign, fuelled by the passion and dedication of our volunteers' – Darren
Running a campaign of this scale at Christmas time is no easy task. Christmas is a stressful time for everyone, the campaign requires a lot of time, dedication and hard work from over 100 volunteers, and a core team of three. The campaign builds on three main success factors: people donating gifts, companies signing up to facilitate donation points and organisations identifying children in need and applying to receive gifts for them.
The 2017 Mission Christmas campaign was by far the most successful one to date for Cash for Kids Northern Ireland. In total, over £500,000 worth of toys were donated and an astonishing 12,678 children in Northern Ireland were provided with a gift. The campaign itself created a true sense of community spirit particularly across social media where people shared the call to action and celebrated the success stories.
'The awareness of the campaign meant that Mission Christmas benefited from 650+ corporate supporters as drop of locations' – Darren
The key goal was to ensure that every child that was applied for received a gift, and Darren was delighted to tell us that they achieved this goal via the campaign in 2017.
Darren's three top tips to running a successful campaign:
• Be innovative and creative – the campaign gained a lot of public support by continually affirming the call to action and sharing our successes and challenges along the way
• Use social media as much as you can – Mission Christmas reached over 339,075 people via social media
• Be efficient – all the information regarding applications, collection points and donations was gathered centrally via an 'in-house online system', which facilitated the smooth management of toy collection, sorting and distribution
To find out more about Cash for Kids Northern Ireland, click here. www.coolfm.co.uk/cashforkids
Young Volunteer of the Year: Shannon Dougherty, Tiny Life
We made our way over to East Belfast, where we met with Valerie Cromie from TinyLife. TinyLife is a charity committed to providing a range of support services that meet the growing needs of families of premature and ill babies in the North of Ireland. Valerie is the charity's Head of Fundraising and Communications; she spoke proudly when telling us Shannon Dougherty's inspirational story…
Shannon took on the challenge of running a marathon over 13 weeks in the run up to her eighth birthday after a family friend's baby, Grace, arrived 13 weeks prematurely. Shannon decided on her own, that she wanted to do something to help raise money for TinyLife, a charity that had supported baby Grace and her family.
'Shannon didn't understand why baby Grace wasn't coming home and just wanted to do something to help' – Valerie
Shannon hoped to raise £500 for TinyLife through her staggered marathon, and in the end, she had raised an amazing £6,600! Being just 7 years old, Shannon's story inspired organisations, running clubs and adults to get behind her as her marathon became less about fundraising and, as Valerie put it, more about 'a child doing something fantastic for another child'.
This year is TinyLife's 30th anniversary, and they have a lot to celebrate. Last year, the charity moved into bigger premises – an old biscuit factory in East Belfast. Their new centre has a dedicated sensory room that has equipment designed to encourage development in infants, a parent support room, a space for group massage and a counselling room to facilitate families. The larger premises offer additional scope for the charity's growing support staff and fundraising team.
To find out more about TinyLife, click here.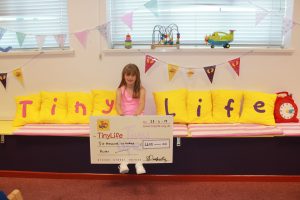 *Keep an eye out for Shannon's appearance in 'Take a Break' magazine over the next few weeks.
Fundraising Partnership of the Year: Barnardo's and Pricewaterhouse Coopers
Towards the end of the day, we met with Aoibheann Doherty, Barnardo's' Fundraising Manager, to discuss Baranrdo's successful two-year partnership with Pricewaterhouse Coopers.
Barnardo's is one of Northern Ireland's larger charities that delivers about 40 different services across the province. Aoibheann acts as the region's only fundraising manager, and has had a major part to play in their corporate partnership with PwC, which has seen over £100,000 raised for Barnardo's.
'The partnership panned out to be more than I ever expected in the beginning.' – Aoibheann
Aoibheann was eager to spark up a relationship with PwC's Purpose Officer, Benny Miskelly, and invited him to Barnardo's to meet with service users and staff. Benny was 'blown away' by the staff's sheer dedication, and the impact they were making in the North of Ireland. For the first time, but not the last, Benny asked the question – 'What can we do to help?' Through fundraising, PwC raised an amazing £50,000 for Barnardo's' 'Forward Steps Service', which is a service unique to Barnardo's NI that works with pre-school children with autism and related communication difficulties.
'I always make sure the fundraising is aligned to a particular service, so the partner knows exactly what they are benefiting.' – Aoibheann
Aoibheann maintained and built on the strong relationship with Benny, which she believes accounts for '90-100% of the partnership's successes'. She then invited him out again to see other services and Benny asked the question, 'What more can we do to help?' From then on the partnership grew, going beyond fundraising, and has seen PwC staff volunteering at different services for Barnardo's. Barnardo's staff have also engaged with PwC to create much needed resources including new leaflets for its Child Bereavement Service.
Aoibheann talked to us about the importance of corporate partnerships, particularly in times of government funding cuts, and explained how they can become 'so much more than just fundraising and collecting the cheque'.
The corporate partnership cleared the way for a complete culture change in Barnardo's, staff members across all services are opening their doors to PwC asking how they could help each other, and the partnership continues to develop.
To find out more about Barnardo's, click here.
Our final thoughts
Our last meeting of the day was with Nadine Campbell, the IoFNI's chair. Nadine told us how the standard of the applications was exceptional this year in all six categories, arguably the highest standard they have had to date. Northern Ireland fundraisers clearly have a knack for fundraising, but they certainly do have their challenges. The Ulster Bank and CO3 3rd Sector Index has revealed that 86% of leaders in the voluntary sector believe the lack of a Stormont government over the past two years has had a negative impact on their organisation. Throughout the day, we heard that the struggle for funds has dramatically increased in the sector; one of the reasons for this was Northern Ireland's political impasse.
'Our lack of government means charities that always depended on government funding have no other choice but to be out there fundraising, which ultimately makes it more competitive for everyone and puts an extra pressure on charities' – Valerie from TinyLife.
Even in the midst of the tough financial and political climate, charities in the North of Ireland are working tirelessly to overcome challenges by using innovative, creative and, clearly, successful ways to fundraise.
'Having no government means that a lot of charities are depending on the good will of the corporate world' – Aoibheann from Barnardo's
All of the well-deserved award winners had an extremely positive attitude and absolute commitment to their respective charities and that plays an extraordinary role in all their fundraising efforts.
We at DSC celebrate the amazing, hard-earned support you all have received, and would like to send our congratulations to the following award winners who, unfortunately, we were unable to meet:
Fundraising event of the year: Cancer Research UK & Relay for Life
Fundraising team of the year: Southern Area Hospice
The Directory of Social Change will be back in Belfast on the 8th November for the IoFNI conference, so please do come and say hello.
Thank you to all of the award winners and Nadine Campbell for taking the time to share all of your inspiring fundraising stories with us. A special thanks to Matthew Allen from the Institute of Fundraising NI for inviting us over and acting as our chauffeur for the day, (we owe you a pint)!