Liverpool Lights: Celebrating those small charities that have a BIG impact
The research team in Liverpool have been visiting charities that are doing extraordinary work to meet the impact of public sector/funding cuts and sharing their stories
#LivLights celebrates small charities that have a big impact in Liverpool. By releasing one charity case study every month, the project aims to create a network from which individual charities in Liverpool are given a platform in which they can voice issues, achievements, communicate any support that they need and more importantly, how much society would be bereft without them.
Case study one: Women's Health Information and Support Centre (WHISC)
WHISC is an all-women run charity, from the beneficiaries to the trustees, which exists through an ethos of 'women helping women'. The charity sits at the top of Bold Street in the heart of Liverpool, and has been working with some of the city's most vulnerable individuals for 33 years. Last year the charity supported 8,528 women with advice, information and support, 37% of whom are not white British.
Many of women walk through the doors of WHISC when they are in complete crisis, whether it be financially, mentally or emotionally. It is inside the charity where women know they will be met with a cup of tea and a listening ear, which in many cases is worth more than words. The charity has around 50 – 60 volunteers who together have given over 5,400 hours of voluntary work in the last year alone. Many of the charity's volunteers have specialist skills which allows WHISC to provide counselling, yoga classes, accredited educational courses, refugee support groups, 'listening-ear' drop in services and much more.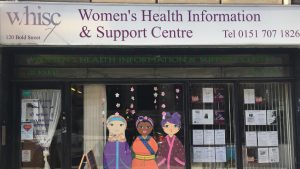 The charity's manager, Caroline, told us how in the past WHISC had been supported through statutory funding from the city council as well as the CCG (Clinical Commissioning Group). However, like many other voluntary organisations, WHISC's statutory funding has reduced significantly which has their staff and supporters seeking for other sources of funding.
'I believe the voluntary sector is in a much more fragile state than it appears – a lot of statutory funding has gone and the nature of other funders is not as stable and reliable as statutory funding. It leaves us with an uncertain future, are they going to keep funding our work?' – Caroline
Caroline spoke of how the NHS has also experienced a decrease in funding at a time when demand for their mental health services has increased considerably. Incredibly, 72% of the women who receive counselling from WHISC are on the waiting list for NHS services.
'We find that we are easing the strain on the NHS.' – Caroline
Austerity has caused hardship for countless women in many ways and WHISC is supporting the varied aspects of that. For example, in 2014/15 two hundred women attended WHISC'S Listening Ear Drop-in sessions; in March ending this year that figure tripled to six hundred. This statistic shows how much the demand for health and wellbeing services has increased, but the funding available does not reflect this.
'We always get people saying, you need to be sustainable! but we work with people who have very little money so if we charge them we lose them.' – Caroline
WHISC are always seeking new and innovative ways in which they can fundraise. This year, instead of sending Christmas cards, the charity is saving costs by only sending e-cards and donating to WHISC instead. Kelly, WHISC's fundraising manager, also started a crowdfunding page in order to raise funds to replace the charity's front window which had been damaged. The charity raised a sufficient amount of funds as well as a new roller blind which was gifted from an individual who had luckily seen their funding page.
The positive impact that WHISC is making in the area of Liverpool is extraordinary; Caroline explains that 'Women are like glue in society.' – they have families, neighbours and friends who are all effected by the support WHISC gives to them as individuals.
'WHISC hasn't just helped me – it's helped my children.'
Can you contribute to WHISC?
To donate to WHISC please click here
The charity is always looking for volunteers who have specialist skills they would like to share. If this is something you would be interested in contact Caroline Willcocks: [email protected]