Liverpool Lights: Yellow House case study
The research team in Liverpool have been visiting charities that are doing extraordinary work to meet the impact of public sector/funding cuts and sharing their stories
Yellow House is a truly unique and irreplaceable charity based just a stone's-throw away from the Directory of Social Change's Liverpool Office. The charity supports young people who experience exclusion, whether it is financially, geographically or socially. Yellow House's 'open-door policy' means that it works with young people from a range of different backgrounds and cultures. Many of the young people there experience mental health problems or loneliness, or live with a disability of some form.
The charity is an internationally known and respected organisation founded in 1986 by the positively eccentric and outspoken (in all the best ways) George McKane. George is particularly significant in the story of Yellow House. His loving, caring energy and pure adoration of the arts has inspired Yellow House in a way that can only be understood after hearing his story.
When I was a kid
In my interview, or more accurately, my conversation with George, he spoke of his past, growing up in a working-class district in Everton: 'When I was a kid, the idea of being an artist or being interested in the arts was not for people like me. I was from a working-class, Irish immigrant background, living on Scotland Road. I use to sneak to the library – I couldn't tell people because, simply, boys didn't go to the library in the 1950s and 60s where I was from'. George went on to tell me that as a boy, he read a book about Vincent Van Gogh, and how Van Gogh lived in a Yellow House, which is where the charity ultimately got its name. The ethos of the charity is in many ways inspired by Van Gogh, for whom George has a deep appreciation.
George grew up and got a job with a bank, where he began feeling his life had very little meaning, and as George puts it – he was 'feeling a bit sorry' for himself. That was until he met a young man on his way to work who had no home life, no support system and was hungry and lonely, so George took him home. He gave him food, a hot bath and some clean clothes, and after talking, he found that the young man had dreams of learning the guitar. George found that it was not just the young man's financial situation that prevented him doing this, but also his fear, and that day George quit his job, and committed himself to helping people like the young man he found on the street 37 years ago. This is really when Yellow House was born.
''I'm going to stick to my principles, and in 37 years, nothing has changed''
Creativity and laughter
When entering Yellow house, it is instantly pleasing and bursts at the seams with creativity and laughter. The hallway is brightly coloured and covered with art prints from George's much loved role models, including Van Gogh, Leonardo Da Vinci and Michelangelo – to name a few. On the walls are photographs of the 'gang', the term chosen by Yellow House and its beneficiaries – which is a fitting term in this case! I had the pleasure of meeting some of the gang and Jonny Hesketh, the Director of Yellow House. When Jonny was 15, he was looking for work experience relating to mental health and discovered Yellow House. He started volunteering with the charity, and since then his relationship with George has grown stronger to the point of Jonny becoming George's successor.
Strong, brave personalities
During my visit to the charity, Jonny told me how 'friendship is an important word in Yellow House' – but he did not need to tell me this. This statement is clear from the moment you walk into the building. Everyone in the Yellow House gang has a strong, brave personality that is encouraged through the organisation's activities. Together everyone gels, breaking down social barriers and ensuring that no one is denied access to any aspect of the arts, or their own creativity. George really does champion difference, which is perhaps the reason why Yellow House attracts young people who have a sense of loneliness or isolation. George told me that 'when people come to Yellow House and they say I'm a bit of an outsider, I say great. We are all outsiders.' He went on to say that Van Gogh was the eternal outsider, the eternal lonely man who achieved greatness, and Yellow House encourages this greatness through theatre, art, music, film and poetry. However, it is not somewhere where you will find mainstream theatre and plays such as Grease, Oliver Twist or Annie – their performances are about 'presenting your soul', which empowers young people to express their inner selves. Often, Yellow House's events, art and plays will focus on current issues affecting young people today. George explained, 'our performances take courage, because we live in a world that puts a lot of effort into covering up how we feel and what we really want to say – so we don't say anything in the end.'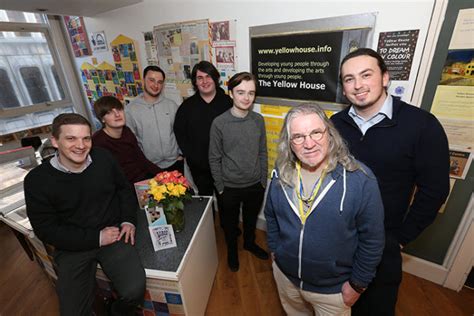 A past gang-member (beneficiary) of Yellow House says, 'I joined Yellow House in 1985/86 and they were the best years of my life. I really can't thank George enough for what he's done for me. I got into sound engineering and then got in with music bands. Since then I've met some brilliant people, and got to travel a lot'.
Yellow House is safe place for young people, which encourages and supports them in following their dreams. I would strongly advise any young person in Liverpool seeking a career in the performing arts, to get involved in Yellow House's revolutionary work.
At the end of my afternoon at Yellow House George asked me, 'if you were a funder, and you walked into Yellow House for the first time – could you resist this place?' – The answer is no George.
Take the time to put 'International Yellow Day' into your diary. On Vincent Van Gogh's Birthday, 30th March, Yellow House asks everyone to wear yellow in support of young people with mental health issues.
To read more about the work Yellow House carries out please click here.
To donate to Yellow House please click here.
Liverpool Lights
#LivLights celebrates small charities that have a big impact in Liverpool. By releasing one charity case study every month, the project aims to create a network from which individual charities in Liverpool are given a platform in which they can voice issues, achievements, communicate any support that they need and more importantly, how much society would be bereft without them.