Why Your Charity Needs Insurance!
Insurance is a key part of the risk management process for charities and non-profit organisations. It's important that these groups who do so much good, with so few resources, protect themselves; insurance can provide that protection. With the financial security provided by insurance, your organisation can focus all its resources on its charitable aims.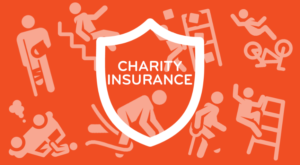 The first check it to ensure you're complying with the law. Employers liability is a legal requirement if you have employees. £5 million is the minimum indemnity, but £10m is standard. Specialist charity insurance may cover your volunteers as if they were employees rather than third parties covered by your Public Liability. If you own and operate vehicles, you're legally required to appropriately insure them. Read more about whether your organisation legally needs insurance.
Is it important to be insured beyond the legal requirements?
Yes! Insurance exists to protect your organisation and your assets from the financial impact of claims. Should a member of the public slip on your premises, despite your best risk management efforts, you may be liable – this is the sort of claim that could cause financial ruin and put a stop to all the good that you have been doing.
What could happen if you're not insured?
It depends on your charity or community group governance. However, if you're not a registered charity and someone makes a claim against you, then you may be personally liable. Equally, even if you are a registered charity, a claimant may choose to take the charity to court and may pursue compensation from the trustees.
Whatever the situation, if you don't have insurance then your charity or non-profit is at serious risk of financial ruin. And there's potentially a significant risk to the board of trustees too.
What should you do about insurance?
The first step towards insuring your organisation should be discussing your requirements with an expert. There are specialist charity insurers, such as CaSE Insurance, and charity brokers that can assist you with your insurance requirements and risk management.
What insurance should you consider buying?
You may consider a range of insurance products. Common cover required by charities and community groups include Public Liability, Property, Trustee Indemnity, Professional Indemnity, Fidelity and more.
Public Liability protects you from claims made by members of the public who have suffered personal injury or property damage because of your charity or community group. Property Damage insures your building, contents and assets against loss, theft or damage and is key to risk management. Trustee Indemnity protects your board of trustees from claims made against them or the organisation. This will help your trustees sleep well at night and can help you recruit top quality trustees. Professional Indemnity protects you if you provide any professional, advice or counselling services or similar. And Fidelity cover insures you against theft or fraud by an employee, volunteer or trustee. Other types of insurance are available.
Where should you start your search?
Find a specialist charity insurer like CaSE Insurance, or a specialist charity broker. They will know more about your requirements and about the products available.