Charity Policies and Procedures Templates
Good policies and procedures should empower staff and increase consistency and fairness across an organisation. These templates give you 36 of the most important policies and procedures for running your organisation effectively.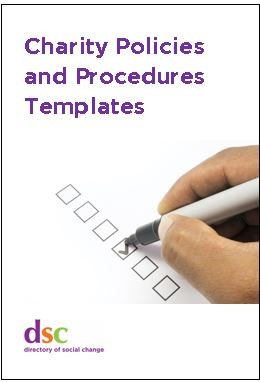 The policies and procedures contained in this document are intended to be adapted and tailored to your specific organisation.* Obvious slots exist for you to drop in your organisation name, or the job title of the relevant person, but it's important to read through the policies fully before deciding whether further changes are required!
The following templates are included in this downloadable Word document:
Acting in Absence Policy
Annual Leave Policy
Authorisation Level Policy
Bullying and Harassment Policy
Compassionate Leave Policy
Complaints Procedure
COVID-19 Working at Home Protocols
Dress Code Policy
Disciplinary and Dismissal Procedure
Fire Procedure
Equal Opportunities Policy
Equipment Policy
Exit Interview Procedure
Handover Notes Policy
Health and Safety Policy
Induction Policy
House Rules
Internet, Email and Social Media Policy
Job Evaluation Policy
Leavers' Procedure
Maternity, Paternity and Adoption Policy
Performance Review Procedure
Redundancy Policy
Recruitment and Selection Policy
Shared Parental Leave Policy
Sickness Policy and Procedure
Six-Month Performance Review Procedure
Statement of Standards of Behaviour
Team Briefing Policy
Time off in lieu (TOIL) Policy
Trustees Expenses Policy
Volunteer Policy
It's deliberately low on formatting and design to make adapting it as easy as possible. Copying and pasting single policies into your own template should be easy, as should working the other way dropping your existing policies into this document to create a comprehensive staff handbook.
We hope you find these useful, and that they save you a small amount of time in developing your own policies, and a much bigger amount of time through having them in place when you need them the most.
While most of the policies are about procedures and processes, there are some relating to legal elements. Guidance around statutory provisions like parental leave etc. should always be checked against official guidance, and legal advice where necessary.
* NB our standard terms and conditions for digital downloads do not allow changes to our documents, but this product is an exception. It is expected that these Word templates will be amended and personalised to suit your organisation.
'This guide is a really useful tool when reviewing your existing policies and procedures to ensure that they are fresh and up-to-date. It is even more valuable when developing new procedures from scratch – so much better than starting with a blank sheet of paper!'
Ian Simpson, Company Secretary, Gloucestershire Gateway Trust

'These templates are a great tool for when I'm working with voluntary, community and social enterprise (VCSE) organisations to ensure they have all the right policies and procedures in place to meet the requirements of prospective funders.'
Robin Causley, Community Fundraising Advisor, Torbay Community Development Trust
Look inside
Have a look inside Charity Policies and Procedures Templates.
Buy as downloadable pdf - Pay by card only
What is pdf?