Charity Policies and Procedures Templates
Robust policies and procedures should empower staff and increase consistency and fairness across an organisation.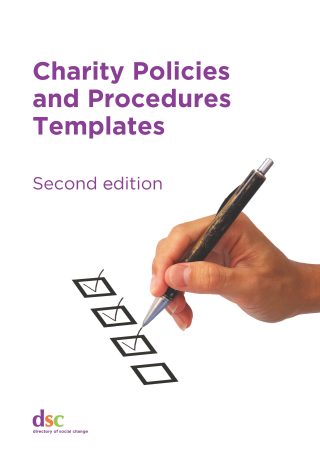 These templates give you 55 of the most important policies and procedures for running your organisation effectively. They range from those related to conditions of employment such as annual leave and flexible working to those concerned with compliance and finance like data protection and credit control.
Hugely popular since first launched in 2020, this second edition contains a further 21 brand new templates (highlighted in bold below) including ones on  equality, equity, diversity and inclusion and virtual meetings to make sure your organisation's policies are as comprehensive as possible.
The policies and procedures contained in the Word document are intended to be adapted and tailored to your specific organisation to make your policy creation that much easier. Obvious slots exist for you to drop in your organisation's name or the job title of the relevant person. We have added notes on some policies for explanatory purposes, so it's important to read through the policies fully before deciding whether further changes are required!
This publication is aimed at those responsible for and involved in devising policies and procedures in their organisation including those with leadership responsibility, HR officers, managers and those with an interest in areas such as risk management, compliance and equality.
The following templates are included in this downloadable Word document:
Acting in Absence Policy
Annual Leave Policy
Authorisation Level Policy
Bullying and Harassment Policy
Compassionate Leave Policy
Credit Control Policy – NEW
Data Protection Policy – NEW
Disaster Recovery Plan – NEW
Disciplinary and Dismissal Procedure
Dress Code Policy
Early/late and Lone Office Working Policy
Employee Volunteering Policy – NEW
Environmental Policy – NEW
Equality, Equity, Diversity and Inclusion Policy – NEW
Equipment Policy
Exit Interview Procedure
Expenditure Authorisation Policy
External Complaints Procedure
Fire Procedure
Flexible Working Policy and Procedure – NEW
Grievance Procedure
Guidance for Managers on Holding Effective One-to-ones – NEW
Guidance for Staff on Effective One-to-ones – NEW
Handover Notes Policy
Health and Safety Policy
Induction Policy
Internet, Email and Social Media Policy
IT Security Policy – NEW
Job Evaluation Policy
Leavers' Procedure
Management and Leadership Policy and Standards – NEW
Maternity, Paternity and Adoption Policy
Microsoft Teams Policy – NEW
Other Forms of Leave Policy
Partnerships Due Diligence – NEW
Performance Review Procedure
Personal Data Breach Policy – NEW
Recruitment and Selection Policy
Redundancy Policy
Safeguarding Policy – NEW
Salary Policy and Performance Awards – NEW
Scheme of Delegation Policy – NEW
Shared Parental Leave Policy
Sickness Policy and Procedure
Six-month Performance Review Procedure
Statement of Standards of Behaviour
Team Briefing Policy
Time Off in Lieu Policy
Trustee Recruitment and Selection Policy – NEW
Trustees' Disputes Policy and Procedure – NEW
Trustees' Expenses Policy
Unauthorised Absence Policy
Virtual Meetings Policy and Procedure – NEW
Volunteer Management Policy
Whistle-blowing Policy
Work–Life Balance Policy and Principles – NEW
The document is deliberately low on formatting and design to make adapting it as easy as possible. Copying and pasting single policies into your own template should be easy, as should working the other way round and dropping your existing policies into this document to create a comprehensive staff handbook.
We hope that these templates will save you a small amount of time in developing your own policies, and a much bigger amount of time through having them in place when you need them the most.
While most of the policies are about procedures and processes, there are some relating to legal elements. You should always check official guidance around statutory provisions and seek legal advice where necessary.
* NB our standard terms and conditions for digital downloads do not allow changes to our documents, but this product is an exception. It is expected that these Word templates will be amended and personalised to suit your organisation.
'These templates are a great tool for when I'm working with voluntary, community and social enterprise (VCSE) organisations to ensure they have all the right policies and procedures in place to meet the requirements of prospective funders.'

Robin Causley, Community Fundraising Advisor, Torbay Community Development Trust

'DSC's Charity Policies and Procedures Templates are invaluable, offering a whole range of policies with a simple framework. They couldn't be simpler to use – to either create a new set of policies in your own house style and branding or cut and paste into your existing documents. These templates have saved us hours of staff time in getting all our basic organisational policies and procedures updated.'

Helen Crisp, Chair of Trustees, PROMPT Maternity Foundation

'This collection of policies and procedures is an excellent practical resource for charities, in particular for smaller organisations that don't have in-house specialists. It contains easy-to-use templates, which can be tailored to suit every organisation depending on the work it carries out, the number of staff it employs, and its structure and organisational culture.'

Rachel Mace, Director, Beating Time

'Getting the organisation's policy framework right is difficult in any organisation, but it is particularly challenging for those in the third sector. In my more than 20 years of working in HR roles, including as a lead of the Charities HR Network for over five years, DSC's Charity Policies and Procedures Templates is one of the most useful tools to help navigate this challenge. At its lightest touch, these templates act as useful starter to help build your organisation's policy framework. Alternatively, the templates can be applied straight out of the guide with minimal tweaks to reflect your organisation's needs. A welcome help for anyone tasked with an HR role in a charity.'

Peter Reeve, CEO, Charities HR Network and Head of HR, Motor Neurone Disease Association

'This guide is a really useful tool when reviewing your existing policies and procedures to ensure that they are fresh and up to date. It is even more valuable when developing new procedures from scratch – so much better than starting with a blank sheet of paper!'
Ian Simpson, Company Secretary, Gloucestershire Gateway Trust
Who is this book for?
This book is aimed at those responsible for and involved in devising policies and procedures in their organisation including those with leadership responsibility, HR officers,  managers and those with an interest in areas such as risk management, compliance and equality.
Look inside
Have a look inside Charity Policies and Procedures Templates (Look Inside). Note the look inside is a PDF whilst the full product is an amendable Word file.
Please note this is a Word document (ignore reference to PDF below as this is an automated website setting).
Buy as downloadable pdf - Pay by card only
What is pdf?