Key Guides: The Charity Trustee's Handbook
This guide is ideal for anyone thinking of becoming a charity trustee, or who is new to the role.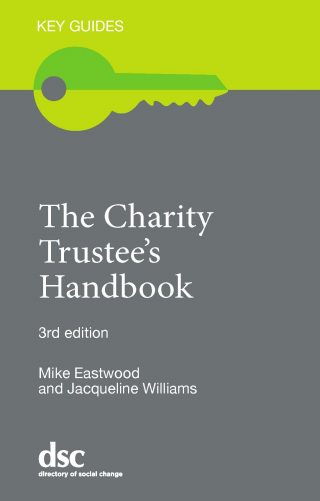 You'll learn about your basic responsibilities, how to be more effective and how to bring your own skills to the trustee board to improve the charity's impact.
This new edition gives you practical advice that takes account of legislation in the Charities Act 2011, the Charities (Protection and Social Investment) Act 2016 and the 2017 Charity Governance Code. You can also take advantage of a series of checklists to help you develop your understanding and confirm whether or not you're on the right track.
Who should buy this book?
This is essential reading for anyone wanting to make the most of their role as a trustee, or those wanting to find out more about becoming one. This handbook will be valuable for trustees of charities of any size.
Ordering multiple copies
You can buy multiple copies for your board and executive team and benefit from our bulk purchase discount scheme by contacting our customer services team on [email protected] or call 020 4526 5995 and they will process your order manually for you.
What does it cover?
The Charity Trustee's Handbook is part of DSC's 'Key Guides' series: condensed pocket books for those new to the subject or who want core subject information.
Whether you're a new trustee or have been in the role for some time, this book will help you to find your way and make good decisions.
The book offers:
Clear information about your duties as a trustee, with suggested publications for further reading
Straightforward advice on planning the work of the organisation, getting funding and dealing with numbers
Examples and advice on handling your charity's financial situation
A brand new chapter on codes of conduct
'The Charity Trustee's Handbook is a practical addition to the resources of any trustee. The checklists for making your board of trustees and its sub-committees effective are invaluable.'

Tesse Akpeki, Leadership, Governance and Personal Development Consultant

'I really welcome this comprehensive guide which will be especially useful for new trustees or those considering engaging in a trustee role. The chapter ''Is trusteeship for you?'' is timely, well written and clear and, in recent times, the best I've seen.' 

Jenny Berry, Director of Leadership and Governance, ACEVO

'This is a very practical guide to being a charity trustee which covers all you need to know in a straightforward, jargon-free style.'

Lindsay Driscoll, Charity Governance Consultant

'As trustee responsibilities become steadily more challenging, the handbook provides an essential source of invaluable information.'

Dr Chris Hanvey, former Vice-Chair, The Family Fund
Look inside
Have a look inside The Charity Trustee's Handbook 3rd edition
About the author
Mike Eastwood
Mike Eastwood is currently Diocesan Secretary in the Diocese of Liverpool and Vice-Chair and Non-Executive Director at the Royal Liverpool and Broadgreen University Hospital Trust. As well as this, he is Director of the Renewal and Reform programme (Archbishops' Council part-time secondment).
Mike was Chief Executive of the Directory of Social Change from 1995 to 2001, chair of trustees for the National Association for Voluntary and Community Action, a member of the Advisory Council to the Charities Aid Foundation and a trustee for the Liverpool Council for Social Service.
Mike is co-author of another popular DSC publication: Writing Better Fundraising Applications.
Jacqueline Williams
Jacqueline Williams is a governance and financial management consultant and trainer, and has extensive experience working with boards of directors (and trustees) across sectors internationally. Her most recent roles have included working with the Centre for Charity Effectiveness (part of Cass Business School) where she was involved in developing the Building Better Governance series. Another was with the International Finance Corporation (part of the World Bank Group), providing governing advice and related services in different parts of Africa.
Her earlier career included regulatory and compliance roles with PricewaterhouseCoopers, the United Friendly Group and Sea Containers Group in the UK. She has had extensive personal experience serving on boards of not-for-profit organisations, mainly in the role of treasurer. Jacqueline is a qualified accountant and lawyer and has a Masters in Corporate Governance and Ethics.
Buy multiple copies for your board and executive team and benefit from our bulk purchase discount scheme.
For more information or to place a bulk discount order please contact the Customer Services team on [email protected] or call 020 4526 5995.
Buy as a downloadable pdf bundle (includes VAT)
What is pdf?