Five quick ways to boost your charity copywriting
If you're writing for digital, it's your job to keep things simple.
Short of time to make sure your communications stand out? Specialist charity copywriter Matt Kurton gives a taste of what he'll be discussing in his Charityfair 2017 session on 30 Quickfire Ways to Supercharge your Digital Writing.
Press the Flesch.
If you're writing for digital, it's your job to keep things simple. And hidden away in Microsoft Word's grammar checker is a little-used tool – the Flesch reading ease score – to quickly tell you just how simple your digital copy really is.
The score is based on the number of words in your sentences and the number of syllables in your words. It's not perfect, but it's a very good guide to check if your copy can be easily understood.
You'll find it in the dialogue box that appears once you've run a spelling and grammar check. A score of 60 or more means you're making things nice and easy for your readers. Less than that and you could be putting people off.
Write less.
That doesn't mean getting rid of all long-form content. Definitely not – engaging, compelling, well-crafted stories will get read, long or short.
But it does mean making sure that every single word counts. So the next time you write some web copy, go through it and lose every word that doesn't need to be there. Over time you'll find yourself writing less from the start.
If you've got 500 words, cut them down to 300. Then cut the 300 down to 150. Then ask yourself how much has really been lost. If the meaning is still the same, is there a reason not to go with the 150-word version?
As an example, does this 'Write less' section really lose anything if you delete the first three sentences? I can't delete them now or this question won't make sense, but you get the point…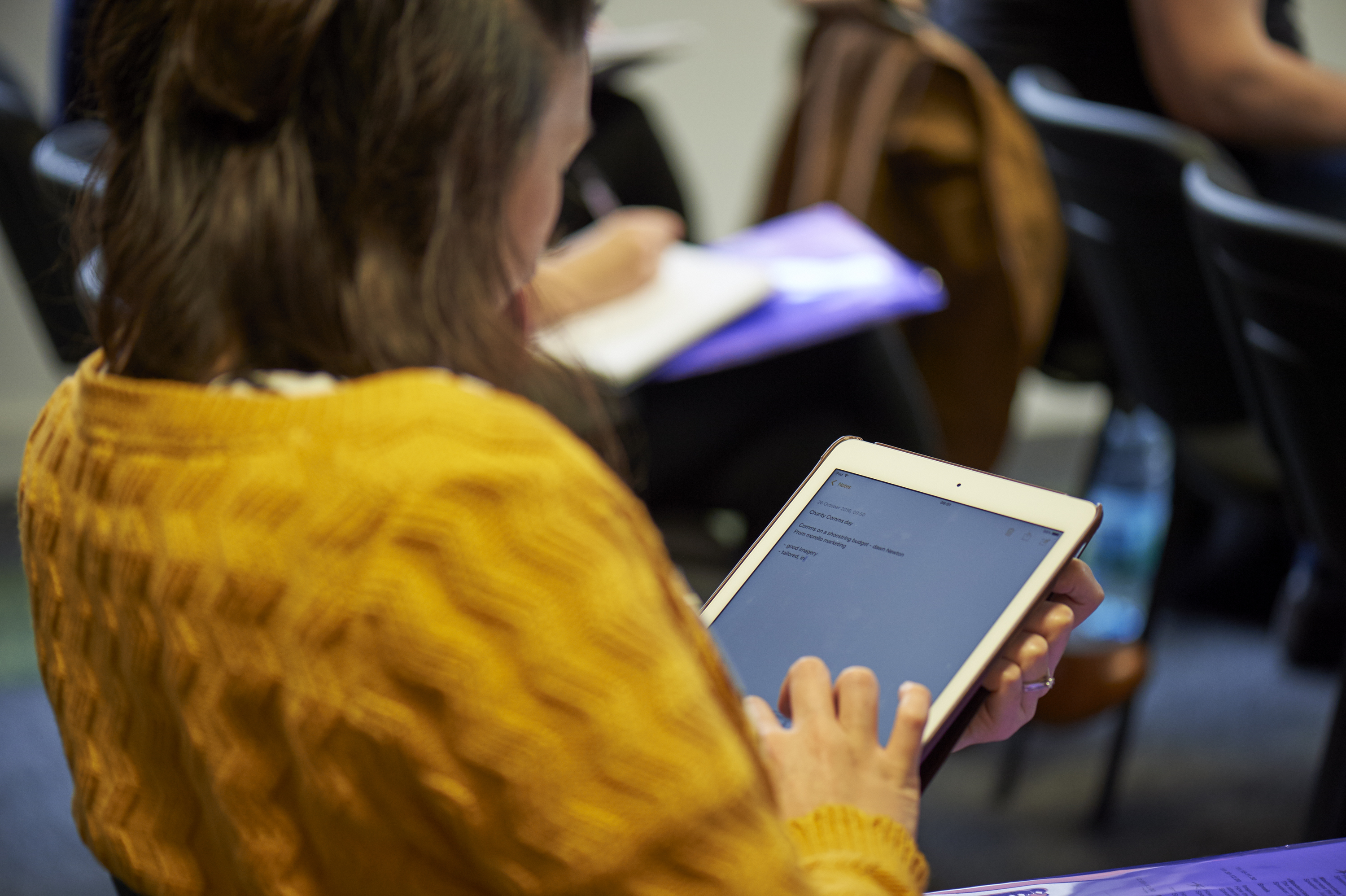 Read it out loud.
Before you publish any web page or social media post, read it out loud.
It's one of the best ways of proofreading, and it's also a speedy way to find out whether you've found the voice you were looking for.
If your copy sounds insincere or patronising or confused, you're more likely to pick that up out loud than in your head.
(And don't worry, people will soon get used to you being the office mumbler, especially when they realise how effortlessly brilliant your writing is…)
Get to know your SEO.
If your digital writing isn't created with SEO in mind, you're missing a pretty big trick.
SEO can sound daunting, but getting to know the basics is actually a fairly quick process. Search for information on things like keywords, title tags, meta descriptions and image descriptions and you'll find plenty of useful guidance. (Or come along to my DSC session for some simple tips.)
And remember that the most powerful kind of SEO is creating content that people want to read and share. Do that and you won't go far wrong.
Show you care.
Unless you really want to annoy your supporters, make sure everything you write seems based on real care and attention to detail – even if you've written it in a hurry.
A badly personalised email (Dear Mr Kurton Matt…) is worse than an email with no personalisation. An email with spelling mistakes in the headline doesn't exactly shout 'Donate to this reliable organisation'.
So keep your databases tidy, proofread carefully and definitely don't be like the many charities who didn't respond at all after one blogger recently joined their mailing lists.