Mining for Treasure
Experienced DSC Trainer, Mike Phillips, outlines the importance of delivering the right kind of training and gives us a sneak peak of his ''Train the Trainer' course he delivers at DSC.
There's a Chinese proverb: "Learning is a treasure that follows its owner everywhere."
Having delivered training for over 20 years, that's why I'm so passionate about it: we can really influence others and have an impact on our charities; the results we achieve and the beneficiaries we serve.
The research demonstrates that creating interactive training sessions that appeal to the four preferred learning styles – helps us ensure that learning has an impact on those that attend our courses and workshops.
So, if your job role involves training others, I hope you can attend the  Train the Trainer course at DSC – come and find out the theory of learning and training and how it influences the training we deliver.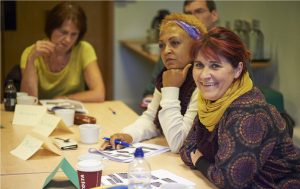 You'll leave with a toolbox of activities that you can adapt and use within your own workplace – and I can promise you'll have fun in the process – adults learn best when training is fun, interactive, practical and can be transferred to their real-life experience.
During the course, you will learn about the training cycle and how to go about preparing, delivering and evaluating your training courses/workshops. We'll also explore how to handle group dynamics during a training session and you'll have the chance to deliver a short 10-minute training session of your own.
With this two-day course, there's also the option to complete a short assignment (all the information required is covered during the actual course) and receive an Institute of Leadership and Management (ILM) endorsement.
This is an ideal opportunity to receive a nationally recognised endorsement of your knowledge and skills as a trainer at a reasonable additional cost. This only involves a few hours of additional work which is ideal for busy people (like you) who may not want to study for a full qualification which can be expensive and time-consuming (often taking several months and involving many hours of work and essays etc.)
Even if you decide not to follow the ILM option, I can guarantee that you'll go away from the Train the Trainer course with increased confidence and lots of ideas for your future training sessions. Not only will you take away a treasure-trove of ideas – you'll also be able to pass on your knowledge and expertise to your own course participants so that their learning becomes a treasure too.