Governance, Trusts and foundations, Management & leadership
How to become a charity trustee: A practical guide
Want to boost your career, skills and happiness? Becoming a charity trustee could do all this and more. Find out what a trustee is, how to become one, and how to discover the charity that's right for you.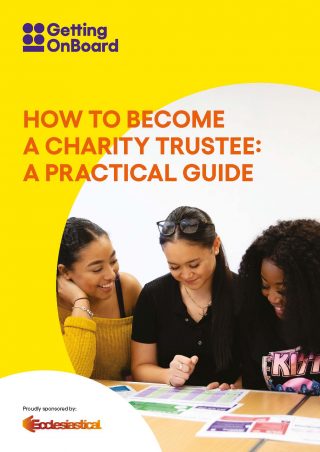 This title is temporarily out of stock.
Becoming a charity trustee allows you to give back to a cause that you care passionately about while gaining new skills, confidence and connections. But with an estimated 100,000 charity trustee vacancies in the UK, it can be difficult to know where to start. How To Become a Charity Trustee is a practical toolkit for charity trustee volunteering that gives clear guidance on how to get started. It covers:
What a trustee is
Responsibilities of a trustee
Finding the right role
Crafting your application
Sponsored by Ecclesiastical Insurance
Who should buy this book?
Whether you're a young person looking for board-level leadership experience, mid-career and expanding your horizons, or approaching retirement and wanting a fresh challenge, this guide will help you step into trusteeship.
'A guide like this is important so that others realise, what I wasn't told, that this route is not just for those with degrees or business qualifications, but that there is a role at the top table for those who've graduated from the university of life.'

Bushra Ahmed,  trustee for the Sheila Mckeknie Foundation, trustee of the Mayor of Croydon's charities and former chair of the Small Charities Coalition

'This guide is invaluable in helping you understand the skills you have to offer, so you can find the right role as a trustee. Becoming a trustee can feel like a lot of responsibility, but it's a brilliant feeling knowing you really are contributing where it's needed.'

Amelia Papworth, Trustee, Cambridge Money Advice Centre

'This guide will be helpful to potential trustees in understanding the benefits of taking on this responsibility and hopefully hearing from others about their experiences will only help to further that desire to apply for roles and make that next step in becoming a trustee.'

Rob Avann, Chief Executive, Open University Students Association
This full-colour, print version of the guide is available exclusively from DSC, but a free download is accessible from Getting on Board.
Look inside
Have a look inside How to become a charity trustee: A Practical Guide.
Biography
How to become a charity trustee and How to recruit trustees for your charity were created by Getting on Board, a charity that helps individuals, employers and members of professional networks become new leaders in communities through board-level volunteering. The guides were written by Lynn Cadman, a governance consultant, project manager and trainer who previously worked for the Charity Commission.