Management & leadership, Management, Governance, Leadership
Managing Without Profit - Pre-order the new edition now!
The only book out there that covers in one volume management, governance and leadership tailored specifically for the civil society sector. Mike's advice, based on decades of experience, offers strategic advice that organisations like yours need to maximise your effectiveness.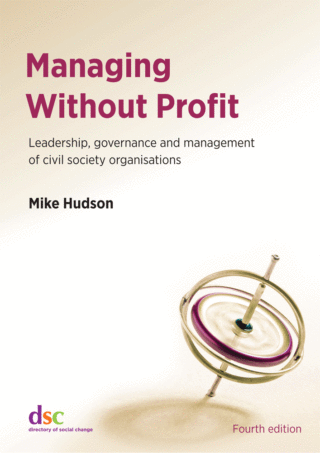 *The new 4th edition is now available to pre-order at special price: £27 instead of £32. Please note that the books will be dispatched on Monday 4th April.
Lead your organisation more effectively, govern it with greater energy and manage it with enhanced efficiency with this fully revised guide for civil society organisations by your side. The quintessential and trusted compendium with wise counsel on every page, it covers issues you're likely to face as you drive your organisation forward.
Who should buy this book?
With over 23,000 other civil society leaders across the world owning a copy, can you afford not to have one?
This book has been described by sector leaders as 'First port of call for help with governance and management issues if we are stuck stuck or need more information.' It was voted Number 2 on the Guardian list of 'Five must-reads for charity workers'.
All chief executives, chairs, trustees and senior managers will benefit from this book. Middle and junior managers with aspirations to develop and widen their roles will also want to read it too.
What does it cover?
This guide offers a practical overview of how to lead, govern and manage a civil society organisation, with comprehensive information and easy-to-apply case studies to back up what you learn.
How chairs and chief executives should work together to provide strong leadership
How to focus the organisation on delivering impact
How leadership teams work most effectively
How to ensure boards and committees deliver maximum value
How to create high performing teams
How to get the greatest benefits from strategic partnerships
What's new in this edition?
The new edition has been completely updated, with new chapters on leadership and governance. It puts leadership at the heart of good governance and effective management and focusses on the key roles of the chair and chief executive in delivering strong leadership.
There are also new sections on:
Managing risk
Developing leadership teams
Choosing board members and selecting chairs and other officers
The book includes 17 new case studies.
What people said about the book
'This book has always been required reading for those involved in management in the voluntary sector and this new and updated version with its focus on leadership and governance will be even more valuable. I warmly recommend it.' Baroness Pitkeathley, House of Lords

'If you want clear, practical advice on how to lead or manage a non-profit organisation, this is the book. It's been completely updated for these challenging and turbulent times. Mike Hudson knows more than is decent about good governance. But there's nothing preachy or ideological here: instead you get helpful nuggets of wisdom and spot-on case studies, all in a highly readable style.' Martin Dinham, CBE, Chair of Sightsavers and Chair of The International HIV/AIDS Alliance

'As the CEO of a major charity this is one of my bibles! It is really clear, I can dip in and out to refresh or renew my thinking, see what others are doing and is a good balance of practical and theoretical.' Jan Tregelles, Chief Executive, Royal Mencap Society

'Mike Hudson stands out from the crowd as he understands not only the frameworks of governance and management in the not-for-profit sector, but also, as importantly, the nuances and implications of behaviours within those frameworks. His book is a masterly combination of both elements. I refer to his work regularly and will continue to do so with this latest book.' David Gregson, Chair, Lawn Tennis Association

This book manages to combine a comprehensive overview of leadership and management in the voluntary sector with wisdom and insight about how to navigate its inherent ambiguity.' Michael Adamson, Chief Executive, British Red Cross
About the author
Mike Hudson
Mike Hudson is Director of Compass Partnership and has been working with Chairs, Chief Executives and leadership teams of civil society organisations and their funders for over 30 years. He has also worked for many government departments, helping to shape policy and funding programmes for the voluntary sector.
Mike has been a Visiting Fellow at the London School of Economics and he is currently a Visiting Fellow at the Cass Business School at City University. He is a member of the Editorial Board of Governance magazine.
His book Managing Without Profit (Third Edition) has sold well over 23,000 copies, been translated into three languages and published in an Australian edition. His other titles include: Managing at the Leading Edge, Delivering Effective Governance, Building Outstanding Leadership Teams and One Minute Governance Tips from his Checklist column of Third Sector Magazine.
*The new 4th edition is now available to pre-order at special price: £27 instead of £32. Please note that the books will be dispatched on Monday 4th April.