Key Guides: Charitable Incorporated Organisations
Charitable Incorporated Organisations (CIOs) are the newest structure for charities in England and Wales, and they're relatively new in Scotland too.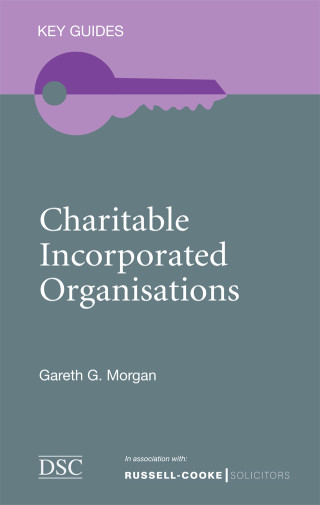 This guide is the only book in the UK solely devoted to this subject. It illustrates the benefits of the structure, and some of the pitfalls. It guides you through setting one up or converting your existing charitable structure.
It offers a full range of practical information and will help you decide your organisation's next move.
Who should buy this book?
This is must-read information for anyone considering establishing a new charity in England, Wales or Scotland to ensure they're using the structure most suitable for their needs.
Leaders of existing charities and not-for-profits, particularly finance managers, will find it a useful guide to whether a CIO would be a better alternative than their current set up.
For the professional adviser and academic it also offers thorough information on CIOs examining them at all levels, going back to the legal frameworks UK-wide and with extensive footnotes and an index of legislation.
What does it cover?
This essential guide captures both the broad concepts of CIOs as well as the detailed provisions.
The pros and cons of CIOs.
How to get started.
How to convert your own organisation.
Must-know legal points, and the difference between CIOs and other structures.
You can find a free DSC factsheet about CIOs here.
'This comprehensive treatment will be essential reading for people who want to gain a full understanding of this long awaited legal new form for charities.' Peter Horner, NAVCA

'Contains helpful and clear explanations of the accounting, filing and external scrutiny requirements for CIOs.' Anne Davis, Head of Charity and Voluntary Sector, Institute of Chartered Accountants in England & Wales (ICAEW)

'An impressively thorough job of capturing the broad concepts of CIOs as well as the detailed provisions of the statutes and regulations.' James Sinclair Taylor, Partner, Charity & Social Business Team, Russell-Cooke Solicitors
About the author
Gareth G Morgan
Gareth is Senior Partner of the charity consultants The Kubernesis Partnership LLP, based in Yorkshire and East Lothian, which supports a wide range of organisations in the areas of charity accounting, formation of new charities, and other issues of charity regulation.
He is also Emeritus Professor of Charity Studies at Sheffeld Hallam University where for many years he led the University's MSc in Charity Resource Management and the inter-faculty Centre for Voluntary Sector Research. He continues to supervise students researching in the charity field.
He is the author or coauthor of many research papers and articles and is author of two DSC books: The Charity Treasurer's Handbook and Charitable Incorporated Organisations. He is a Fellow of the Association of Charity Independent Examiners, a Full Member with Diploma of the Institute of Fundraising and an Academic Fellow of the Association of International Accountants. He is also a member of the Charity Law Association where he has contributed to several of its working parties, and he served on the Charity Technical Committee of the Institute of Chartered Accountants in England and Wales (ICAEW) for six years. He is now on the Charity Expert Panel of the Institute of Chartered Accountants of Scotland (ICAS).