Speed Read: Difficult Customers
Whether they're donors or benefactors, some of your 'customers' are going to complain or be difficult to deal with.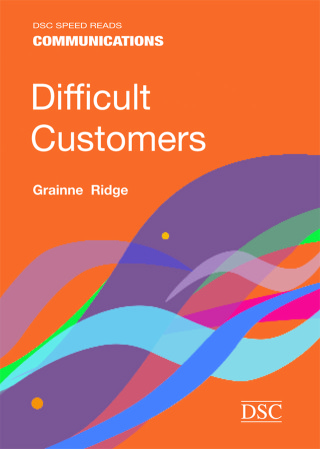 Part of the Directory of Social Change's renowned 'Speed Read' library, this short book will show you how to manage complaints and difficult customers sensitively and effectively, without risking the reputation of your organisation.
In this simple and short book, you'll find advice as well as templates and other tools to make the customer management process less of a headache.
Who should buy this book?
Anyone who deals with donors or service users will benefit from this short guide. The advice and tools it contains should be circulated across your organisation.
What does it cover?
Get the essentials in one quick and comprehensive guide.
How to identify a difficult customer.
Identifying a legitimate complaint versus a customer who just needs a little delicate attention.
Tactics for pre-empting and preventing complaints.
Practical approaches, policies and ways to respond to difficult customers.
Look inside
Have a look inside Speed Read: Difficult Customers.
About the author
Grainne Ridge
Grainne is a business advisor and coach specialising in sales effectiveness and sales coaching. Since 2010 she has run Business Fit Club which offers high quality business training, practical tools and support to businesses. Prior to that she was, for nine years,  a training consultant with All about Results and also Sales Training Manager with Mars for five years.
Grainne has written three titles in Directory of Social Change's Speed Read Series: Time Management, Training Skills and Difficult Customers.
DSC Speed Reads
Information fast if you are short on time.
They are:
Accessible – practical guidance on a wide range of subjects
Condensed – experience and expertise in just 32 pages
Clearly signposted – Top Tips, Case Studies and Where Next ideas
For other titles in the series and for offers go to The Speed Read Series.
Buy as downloadable pdf - Pay by card only
What is pdf?