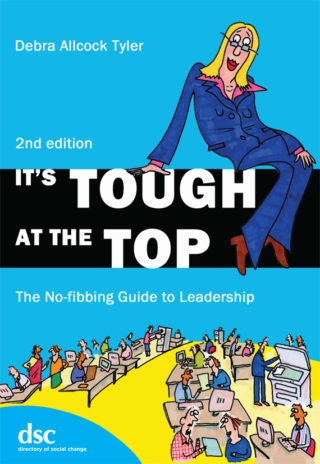 So you've got the top job … now what?
Many people find themselves in a senior leadership role without the formal training or support they may have had before.
It's Tough at the Top is a practical, no-nonsense guide to upper-level management from a respected leader in the voluntary sector.
Drawing upon her experiences as a manager, development consultant and chief executive, Debra Allcock Tyler gets to the heart of what matters in senior management, combining leadership theory and models with personal anecdotes and real-life situations.
No sugar-coating, no soft soap, she just tells it as it is.
Illustrations by Private Eye, The Spectator and The Sunday Times cartoonist Grizelda
Who should buy this book?
This book is for newly appointed chief executives and organisation leaders.
It will also be of great use to those who've been in post for some time who could (secretly) do with a refresh, and to those who are considering applying for top-level positions.
What does it cover?
This guide is practical, sympathetic and constructive.
Get answers to questions you might be too embarrassed to ask.
Top-line information from those who have been there and learnt the hard way.
Easy-to-understand format, with case studies and examples.
Learn how to lead and inspire, without breaking a sweat.
New to this fully revised second edition:
Completely updated material on working with trustees
The addition of practical examples and tools
New top tips from experienced sector leaders
'Go into many offices of CEOs in our sector and you will find well-thumbed copies close at hand. Its ideas have got many of us over rough ground more lightly. Perhaps it should be retitled "In Case of Emergency Open Here"!'.

Peter Wanless, Chief Executive, NSPCC [from the foreword]

'Manages to blend real-life experience and sound academic study, while making the book a pleasure to read. Written in an accessible, practical style it doesn't preach; rather it gives you the opportunity to reflect on your own leadership style and improve both as a boss and as a human being.'

Alex Swallow, The Influence Expert

'Practical, sympathetic and constructive and answers many of the questions we might be embarrassed to ask.'

Bridget Warr, Chief Executive, United Kingdom Homecare Association
Look inside
Have a look inside 'It's Tough at the Top: The no-fibbing guide to leadership'.
About the author
Debra Allcock Tyler
Debra Allcock Tyler is CEO of the Directory of Social Change and has worked in management and consultancy for over 32 years. Author of several books on management and leadership, she has many years' experience of training and coaching boards, chief executives and top teams. She is a popular public speaker and has appeared on Radio 4's The Moral Maze. She has a regular monthly column in Third Sector magazine.
Have a look at this video to learn more about the book.
Buy as downloadable pdf - Pay by card only
What is pdf?
Buy as downloadable epub - Pay by card only
What is epub?