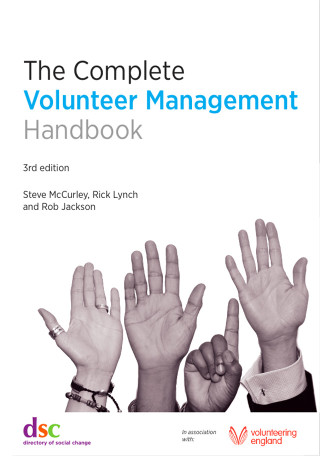 Engaging people, giving them a great experience and balancing the needs of your organisation with the motivations and availability of volunteers can be a fine balance and is a vital skill.
It's just one of the key strategies covered in this comprehensive manual for recruiting, selecting, using and rewarding volunteers effectively.
This is a classic text covering every aspect of managing what can be your charity's most valuable assets. Ensure you get it right by gaining from the knowledge and experience gathered in this single volume.
Who should buy this book?
This is a high level textbook for those who set long-term strategies for your organisation, as well as for those on the front line working directly with volunteers.
What does it cover?
This extensive manual covers every aspect of effective volunteer management.
Current trends in volunteering and how to make the most of them.
How to find the right volunteers to fill the right roles.
Creating a comprehensive volunteering programme, to replace your ad-hoc approach.
How to measure the effectiveness of your volunteering strategy, and change it as your organisation develops.
'An essential tool for any organisation seeking to involve volunteers strategically and effectively in its work. It will help you understand how to make the most of volunteers and ensure a positive experience for both the volunteer and the organisation.' 

Alison Hammock, Head of Volunteering, Parkinson's UK

'Whether you've been working with volunteers for years or are just starting out, this book will take you through the vital steps for success, from developing a role to supporting your volunteers long term. Offering expert advice and tips, the handbook is the perfect accompaniment to the role of the volunteer manager.' 

Samantha Sparrow, Knowledge & Innovation Manager, vInspired

'We need to draw on the body of knowledge that has been built up through experience and research over the years and from around the world – this new edition enables us to do just that.' 

From the Foreword by Justin Davis Smith CBE, Chief Executive, Volunteering England
Look inside
Have a look inside The Complete Volunteer Management Handbook.
About the authors
Steve McCurley
Steve is an internationally known trainer and speaker in the field of effective volunteer involvement. He is currently a partner in VM Systems, a management consulting firm which specialises in helping organisations to improve their utilisation of volunteers.
Whilst primarily based in the US, in the UK Steve has worked with Community Service Volunteers, Volunteering England , the British Red Cross, the National Trusts, Guide Dogs for the Blind, TearFund and many other groups.
He is co-author of The Complete Volunteer Management Handbook and Keeping Volunteers.
Rick Lynch
Rick is a Seattle-based management consultant and Principal Consultant of Lynch Associates with a variety of clients in the US, Canada, the UK, Ireland, Australia Singapore, Russia and Brazil. Each year Rick speaks at approximately 100 workshops, conventions and conferences across the world.
He is co-author of The Complete Volunteer Management Handbook and Keeping Volunteers.
Rob Jackson
Rob is an international speaker, trainer and consultant in volunteer leadership and management with over 20 years experience. He is Director of Rob Jackson Consulting which he started in 2011 after leaving his role as Director of Innovation and Impact at Volunteering England. Rob has also been Volunteering Development Manager at RNIB and Regional Volunteering Development Manager at Barnado's.
He is Founder of UKVPMs, the UK's first internet networking resource dedicated to British Volunteer Programme Managers, now the largest group of its kind in the world. He is also a former Member of the Institute of Fundraising's Standards Committee and chairman of the working party which developed the code of good practice for working with volunteers in fundraising
Rob is co-author of The Complete Volunteer Management Handbook.
Buy as a downloadable pdf bundle (includes VAT)
What is pdf?
Price
£28.80

(£24.00 + VAT)