Fundraising, Strategy and planning
Fundraising Strategy
Do you lurch from one fundraising campaign to the next, or are you able to step back and take the long view?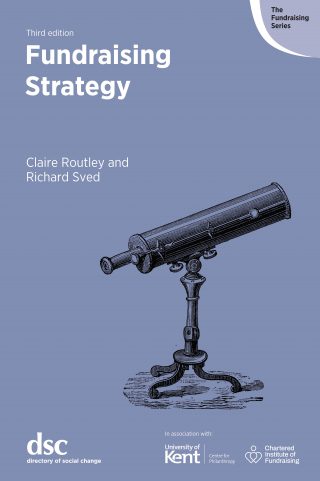 Pre-order now for publication 1/11/21
In association with the Centre for Philanthropy at the University of Kent and with the Chartered Institute of Fundraising
The way you approach fundraising can make all the difference to your charity's success and its ultimate survival. The prudent fundraiser has to have a strategy in place that is both robust and dynamic, and this book will set you on the path to achieving that.
Grounded in robust theory but with the needs of practitioners at its heart, this fully rewritten new edition will be your indispensable aid. It shows you how to:
Understand the internal and external fundraising environment
Identify your strategic objectives and key audiences
Structure your tactics
Track, measure and control your plan
Avoid strategic wear-out
Who is this book for?
With additional insights around contemporary issues and advice on how to establish an ethical framework for your fundraising, this guide is a pre-requisite for all fundraising professionals.
'Though the fundraising environment is changing rapidly, the fundamental principles, tools and techniques of sound strategic planning remain essential for fundraising success. When you're working in fundraising day to day, including at a senior level, it's good to be reminded of some of the tools that can help you see things from a fresh perspective. Read this book cover to cover or dip into the different sections; it's a practical book for newcomers to the sector and experienced fundraisers alike.'

Beth Crackles, Director of Fundraising and Communications, Day One Trauma Support
'Strategy is certainly the buzzword of all buzzwords these days with hundreds of books, courses, and resources out there on the subject. Often, these are tailored for the business rather than the not-for-profit community – few are easy to understand and fewer relatable to our sector. So, if you are interested in fundraising strategy for your charity, I highly recommend this absolutely brilliant book. It is a clear and concise walkthrough of developing your fundraising strategy, full of applicable examples that will help you tremendously. You'll need this one on your shelf as well as for your whole leadership team and board!'

Cherian Koshy CFRE, Director of Development, Des Moines Performing Arts
About the authors
Claire Routley
Claire Routley has worked in fundraising for almost twenty years for a number of different charities, ranging from a local hospice to Age UK. Claire is now a consultant specialising in legacy and in-memory fundraising and is an in-demand speaker at conferences across the UK. She is a fellow of The Chartered Institute of Fundraising where she also teaches across its range of fundraising qualifications. Claire holds the world's first PhD in Legacy Marketing and is also a chartered marketer.
Richard Sved
Richard is Director of 3rd Sector Mission Control. He is an experienced senior manager having led the fundraising team at nine national charities including Girlguiding, Epilepsy Society and The National Literacy Trust. Richard specialises in income generation, strategic planning and charity governance.