Fundraising, Funding sources, Legacies
Legacy and In-Memory Fundraising
As one of the most effective ways of raising large funds, drive your legacy fundraising programme forward with this definitive guide
In association with the Hartsook Centre for Sustainable Philanthropy at Plymouth University and the Chartered Institute of Fundraising
This groundbreaking guide brings together 24 of the charity sector's biggest thinkers and most experienced fundraisers to offer you sound, practical advice.
You'll learn techniques and strategies, as well as other important things to consider such as legalities, ethics, timing, using events and identifying those to target.
Who is this book for?
Legacies and in-memory gifts are a crucial source of income for charities, as well as a fulfilling giving experience for pledgers. For fundraisers doing the asking it can also be highly rewarding, but you need to have the skills and know-how to hone your approach.
Whether you are new to the world of legacy fundraising or an experienced practitioner, this book will provide you with indispensable guidance on getting your fundraising right. The guide is of use to senior charity staff, chief executives and trustees considering a legacies strategy.
What does it cover?
It covers essential information on how to manage legacy income and is packed with case studies and has been updated to take account of recent developments in:
Legacy data analysis
Digital communications and media
New in-memory giving strategies
Legacy administration systems
'Gifts in wills have the potential to change the world. Engaging your supporters and the wider public in legacy conversations has never been more crucial or more exciting. This book is a great starting point to help fundraisers shape their legacy strategy, influence internally and understand the variety of ways in which they can raise awareness and inspire people to include a gift in their will.'

Dominique Abranson (Dip IDM), Legacy and In-Memory Manager, WaterAid and Chair, Institute of Fundraising Legacy and In Memory Special Interest Group

'This book reads like a who's who of some of the greatest legacy and in-memory fundraisers over the past decade. From crafting your case for support to creating conversations; and from legacy forecasting to legal pitfalls – this book has it all.'

Rob Cope, Director, Remember A Charity and Director of Development, the Chartered Institute of Fundraising [from the foreword]

'This little gem of a book is a very easy read that will answer all your questions and help you to build your legacy programme from start to finish. You'll find yourself referring to it again and again, no matter what level you are working at.'

Emma Deabill, Alumni Relations and Development Co-ordinator, University of Portsmouth

'It's great to see an updated edition of this fantastic book, which offers valuable insights from a number of different experts in the field. Irrespective of the size of your organisation or the extent of your experience, you'll find really practical takeaways that will enhance your fundraising practice.'

Craig Fordham, Director of Legacies, Macmillan Cancer Support
Look inside
Have a look inside Legacy and In-Memory Fundraising.
See a video with Claire Routley talking about Legacy and In-Memory Fundraising here.
About the co-editors
Claire Routley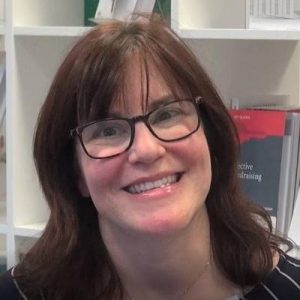 Claire Routley has worked in fundraising for fifteen years, specialising in legacy fundraising for over a decade. In 2011, she completed a PhD looking into why people choose to leave legacies to charity. Having worked for a number of different charities, she is now a consultant specialising in legacy and in-memory fundraising, a research fellow at the University of Plymouth Hartsook Centre and is a tutor for the Institute of Fundraising's qualification courses.
Sebastian Wilberforce
Sebastian is a process analyst working as a consultant in the not-for-profit sector in New Zealand. With the aim of helping improve outputs, he works across governance and management systems including fundraising. Sebastian has been editor of this book since its first edition 21 years ago. At that time he was a legacy fundraiser for one of Britain's biggest charities, RNIB, having previously worked as a solicitor specialising in trust and charity law. Since then he has been a legacy fundraising consultant to many not-for-profit organisations in New Zealand and also brings experience from the commercial sector having co-owned a multi-channel, consumer-focused business for eight years.
Chapter contributors include:
Meg Abdy, Legacy Foresight; Dan Carter, Legacy Director, International Fund for Animal Welfare; Jonathan Cook, Director, Insightful; Daniel Fluskey, Head of Policy and Research, Institute of Fundraising; Stephen George, Fundraising consultant; Sarah Bolt, Daniel (Dan) Harris, Rod Smith and Paul Sutton: members of the Legacy Team of Stone King LLP; Eifron Hopper, Legacy Income Manager, RNLI; Russell James, Professor, Texas Tech University; Kate Jenkinson, Head of In-Memory Consultancy, Legacy Foresight; Nigel Magson, Adroit Insight; Chris Millward, CEO, Institute of Legacy Management; Stephen Pidgeon, Fundraising consultant;  Richard Radcliffe, Radcliffe Consulting; Fiona Riley, Head of Legacy Fundraising, British Heart Foundation; Ashley Rowthorn, Legacy Voice; Justine Williams, Fundraising Consultant; Katy Williamson, Regional Legacy Manager for Cancer Research UK in Scotland.
The Fundraising Series is supported by The Chartered Institute of Fundraising (CIOF). If you are a CIOF member you are entitled to 15% off each individual purchase by applying the  discount code which can be retrieved by logging in to the member benefit  area of their website. This offer cannot be used concurrently with other bundle offers or bulk discounts that may be available.
Buy as downloadable pdf - Pay by card only
What is pdf?
Buy as downloadable epub - Pay by card only
What is epub?