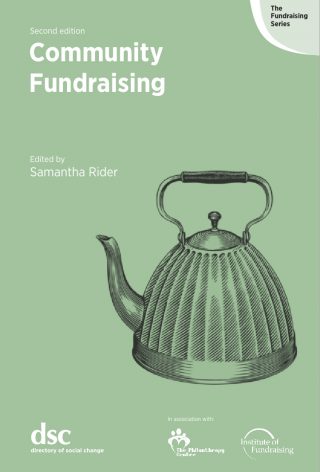 Available to pre-order. Published July 2019.
Community fundraising is one of the oldest, most resilient and most common forms of fundraising and yet there is surprisingly little written about it.
The guide fills the gap by bringing together the expertise of many experienced community fundraisers to share their well-honed advice.
It covers strategy and planning as well as the key activities that make up community fundraising –  from cash collections to small-scale and mass participation events. It also offers techniques on managing volunteers and how to steward fundraising participants.
The all-new second edition explores everything that community fundraisers need to know. It is packed with case studies and has been updated to take account of recent developments in:
Developing digital strategies
Applying data analysis
Engaging with business in the community
'Written in a no-nonsense and engaging way by expert practitioners, this is a fascinating look into the gratifying world of community fundraising. Anyone new to fundraising, or wanting to develop their knowledge further, will find it valuable. Whether it is the up-to-date techniques and practical tips or the case studies and useful templates, there is something here for all community fundraisers.'

Lucy Squance, Director of Supporter-led Fundraising, Alzheimer's Research UK
Who should buy this book?
This will become the key textbook on community fundraising for fundraisers and events staff from both small and large organisations. It will also be of use to senior charity staff, CEOs and trustees considering a community fundraising strategy.
About the author
Sam Rider
Sam Rider is editor of the new edition of Community Fundraising. She has over 25 years' experience as a CEO and Fundraising Director for national, international and regional charities. Sam is a fundraising consultant and a tutor for the Institute of Fundraising's Academy, as well as providing bespoke training for a range of organisations.
With contributions from:
Susannah Collier, Head of Community Fundraising, National Children's Society
Jane Galloway, Founder, Arclight Solutions Ltd and Senior Lecturer, University of Chichester
Lianne Howard-Dace, Christian Aid Week and Community Fundraising Lead, Christian Aid
Gill Jolly, Trainer and tutor, Achieve Consultants
Michelle Martin, Head of Relationship Fundraising Development, Macmillan Cancer Support
Andrew Peel, Founder, Peel Consulting
Liz Haigh-Reeve, CEO, Fundraising Works
Hannah Redmond, Macmillan's Head of National Events Marketing, Macmillan Cancer Support
Claire Singlehurst, Director of Relationship Fundraising, Macmillan Cancer Support
John Tasker, Strategy Director, We are massive
Debbie Warren, Inspired Fundraising
Available to pre-order. Published July 2019.