Individual donors, Fundraising
How to Love Your Donors (To Death)
Be prepared for a rollercoaster ride of fundraising criminals and heroes, as author and world renowned public speaker Stephen Pidgeon accuses the charity sector of failing to look after its best donors, its minor donors.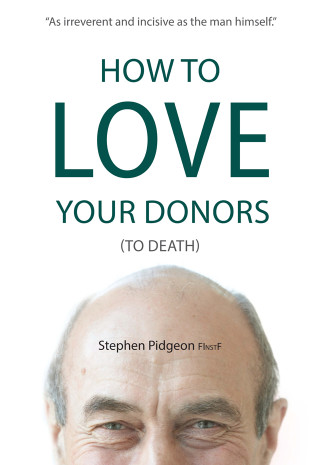 In this uncompromising book, Pidgeon decries the crass attitude of many organisations and individuals towards these essential donors.
It is a book that will challenge, delight and encourage in equal measure. Your attitudes to your donors will be changed forever.
Who should buy this book?
Anyone – absolutely anyone – involved in working with donors must read this book. As soon as possible.
It will be particularly useful for chief executives, trustees, senior fundraising executives, fundraising managers and fundraisers.
What does it cover?
The author mines the depths of his extensive knowledge from 30 years of fundraising campaigns, to offer:
Examples of bad practice that will make you cringe.
Case studies of good fundraising that will have you leaping from your chair to get started.
Look out for his 'Practical tips' and trademark 'Stephen's rants'.
Learn to deal with colleagues who think fundraising is a dark art, rather than about building great relationships.
'Tough, opinionated and just plain right. Pidgeon has raised millions for some of the world's largest fundraising charities and he hasn't always done that by being nice.'

Professor Adrian Sargeant, Director of the Centre for Sustainable Philanthropy, Plymouth University

'Stephen Pidgeon's book is a high octane-fuelled read of the highest order. If reading this book doesn't make you shout 'Yes, yes, yes' on one page and snort with outrage on the next, I will be very surprised.'

Joe Saxton, Driver of Ideas, nfpSynergy

'Loving this book! A must-read for fundraisers, especially for those working with smaller-gift donors.'

Beth Ann Locke, Fundraising Communication Consultant, Vancouver
Look inside
Have a look inside 'How To Love Your Donors (To Death)!' 
About the author
Stephen Pidgeon
Platform speaker, teacher, consultant and itinerant agency man, Stephen now speaks and teaches throughout the world. After 20 years setting up and running the UK's largest fundraising agency, he now works with a wide range of charities in UK, Ireland, Norway, Denmark, Canada, US and New Zealand. A committed minor donor fundraiser, he has a special interest in stewardship and legacy marketing but gets excited (very excited!) at the way charities mistreat their supporters.
He is a visiting Professor for Plymouth University's Centre for Sustainable Philanthropy, he teaches for the UK's Institute of Fundraising (he was also an twice-elected trustee), and for Fundraising Ireland and for FINZ. He is a Trustee of development agency VSO, a director of MediaLab, associate of Revolutionise and a member of fundraising think-tank Rogare, Stephen writes regularly and often critically in the sector press.
Stephen Pidgeon was at Fundraising Fair speaking about how to be more creative on your fundraising strategy. You can watch it below.
Would you like to see more videos? Go to our Facebook page.
Buy as downloadable pdf - Pay by card only
What is pdf?