Strategy and planning, Fundraising
The Complete Fundraising Handbook
If you are a fundraiser or someone who needs to raise money for your organisation or scheme, you cannot be without this book.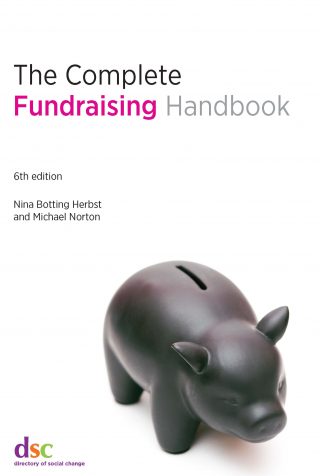 Never out of print since it was published in 1992, the book has more than earned its place on your fundraising department's bookshelf. It is the most complete reference guide to fundraising available, with detailed information about the theory and practice of effective fundraising.
You'll find it easy to navigate, packed with case studies, and you'll gain from the insights, knowledge and advice shared by some of the giants of the fundraising world.
Who should buy this book?
Professional fundraisers, whether beginners or more senior, will benefit from the information inside this 'fundraising bible'.
It's also a key text for chief executives, trustees and managers.
What does it cover?
This is a huge brick of a book you'll find yourself dipping into almost every day.
Authoritative chapters from the world's best fundraising and charity minds.
Case studies throughout of fundraising campaigns that have, and haven't, worked.
The common mistakes new fundraisers make, and how to avoid them.
Fully up-to-date to deal with today's austerity environment.
'The publication I would request if asked to fundraise my way off the proverbial desert island!' Daryl Upsall FInstF, Chief Executive, Daryl Upsall & Associates

'This is not just a fundraising handbook, not even the fundraising handbook. It is The Complete Fundraising Handbook and as much as anything ever could, it deserves that title.' Ken Burnett, from the Foreword

'The Complete Fundraising Handbook is a critical tool for fundraisers – more so now than ever before. Fundraising, grant writing, corporate giving and major donors – all become achievable with the Handbook's help.' Andrew Watt, FInstF, President & CEO, Association of Fundraising Professionals, USA

'As someone who is about to move from being the Director of Fundraising from a large charity, to a Chief Executive in a smaller one, I can see this will be my bible wherever I go.' Gill Raikes MBE, Former Director of Fundraising, National Trust, now Chief Executive of the Royal Brompton and Harefield Hospitals Charity

'To keep up-to-date with our fast paced world fundraisers must have the fundraising techniques, trends and ideas of the moment in the palm of their hand. This latest revision brings all these up-to-date in an engaging and inspiring way. A must-have in every fundraiser's library.' Di Flatt, Chair, Institute of Fundraising in Yorkshire and Fundraising Director, Epilepsy Action
Look inside
Have a look inside The Complete Fundraising Handbook.
About the authors
Nina Botting Herbst
Nina Botting Herbst is a Senior Associate Director for Alumni Relations and Development at the University of Chicago where she has worked since 2003.
Nina is a native of London and began her fundraising career there in 1993 as an account manager at Pell and Bales, going on to work for Shelter, Amnesty International UK and Tate. Nina served on the Institute of Fundraising (IoF) Standards Committee from 1999 to 2001, was chair of the committee that drafted the first code of practice for legacy fundraising  and for personal solicitation of committed gifts. Before moving to the US in 2002 she was a frequent speaker at fundraising conferences in the UK and now fills her spare time as a volunteer docent/tour guide and fundraising consultant for three house museums in Chicago. Nina is lead author of The Complete Fundraising Handbook.
Michael Norton
Michael Norton OBE is major and influential figure within the voluntary sector. He is the founder of several influential charities including The Directory of Social Change, Changemakers, Youthbank UK and is also a founder and trustee of UnLTD – the foundation for Social Entrepreneurs – in both the UK and India. He is currently Honorary Director and a Trustee of Centre for Innovation in Voluntary Action (CIVA).
Michael is also the author of numerous books on fundraising including Writing Better Fundraising Applications, The Worldwide Fundraiser's Handbook, and The Complete Fundraising Handbook all published by Directory of Social Change.
Buy as a downloadable pdf bundle (includes VAT)
What is pdf?
Price
£28.80

(£24.00 + VAT)