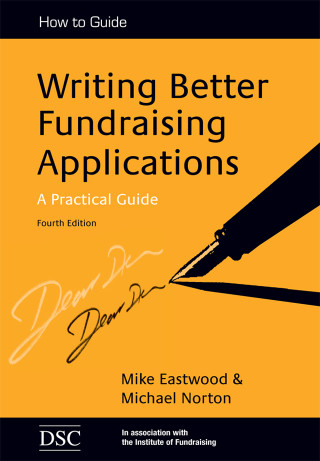 Is writing fundraising applications a skill or an art?
The truth is it's both. This book will offer you the skills you need, and give you lots of opportunity to practise the art. Together, they'll lead to more success for you and your organisation.
Who should buy this book?
This is the standard text for anyone who has to write fundraising applications, from chief executives and senior management, to fundraisers and project leaders.
What does it cover?
With worked through examples, you'll learn the vital ingredients for a successful application.
How to prepare your information before even touching the application form.
How to think like a funder and provide what they need.
Trends in fundraising, including the online applications process.
Examples of funders' own guidelines for applications and accompanying letters.
What people say about this book
'I have read quite a few books on fundraising, but this is one of the best that I have ever seen.' Parentline News

'… Clear, comprehensive and practical advice.' Book List, magazine of the Citizens Advice Bureau

'The best book I've read on fundraising applications. Indispensable.' Rebecca Bentham, Fundraiser, Liverpool Cathedral

'A useful book even for the seasoned proposal writer, with lots of tips and reminders that will serve to make your fundraising application even better, and maybe even more likely to be successful.' Interlink Foundation
Look inside
Have a look inside Writing Better Fundraising Applications.
About the authors
Michael Norton
Michael Norton OBE is major and influential figure within the voluntary sector. He is the founder of several influential charities including The Directory of Social Change, Changemakers, Youthbank UK and is also a founder and trustee of UnLTD – the foundation for Social Entrepreneurs – in both the UK and India. He is currently Honorary Director and a Trustee of Centre for Innovation in Voluntary Action (CIVA).
Michael is also the author of numerous books on fundraising including Writing Better Fundraising Applications, The Worldwide Fundraiser's Handbook, and The Complete Fundraising Handbook all published by Directory of Social Change.
Mike Eastwood
Mike is currently Diocesan Secretary in the diocese of Liverpool and Director of Operations for Liverpool Cathedral. He is also a trustee of Merseyside Community Foundation and the Church Urban Fund. Mike was chief executive of the Directory of Social Change from 1995 to 2001, chair of trustees for the National Association for Voluntary and Community Action, a member of the Advisory Council to the Charities Aid Foundation and a trustee for Liverpool Council for Social Service.
Mike is author of The Charity Trustee's Handbook and co-author of Writing Better Fundraising Applications for Directory of Social Change.
Buy as downloadable pdf - Pay by card only
What is pdf?