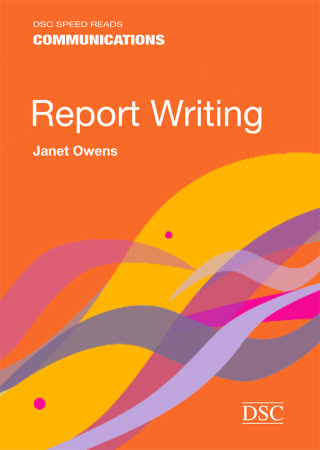 The print edition of this title is temporarily out of stock, but the digital version is still available.
Part of DSC's Speed Read library, this book will help you plan, structure, draft and then re-draft reports that inform and impress.
That blank computer screen need no longer be as scary. With the techniques you'll learn here, you'll feel those reports writing themselves.
Who should buy this book?
Everyone working in the voluntary sector has to write reports of one kind or another. This quick read will help you get started.
What does it cover?
Get the essentials in one quick and comprehensive guide.
How to pin down the key elements your report must contain.
Thinking about your audience: what do they need to know?
Structuring your report, so it's useful as well as informative.
Different styles of reports for different purposes.
Look inside
Have a look inside Speed Read: Report Writing.
About the author
Janet Owens
Janet, now retired, was founder and owner of Barwen Training Consultants a company started in 1996. Janet has a postgraduate Master of Education degree from Liverpool University in Organisational Philosophy and Personal Development.  Janet  specialised in management training and was author of DSC's Speed Read on Report Writing. Janet was an associate of The Institute of Management Consultancy.
DSC Speed Reads
Information fast if you are short on time.
They are:
Accessible – practical guidance on a wide range of subjects
Condensed – experience and expertise in just 32 pages
Clearly signposted – Top Tips, Case Studies and Where Next ideas
For other titles in the series and for offers go to The Speed Read Series.
Buy as downloadable pdf - Pay by card only
What is pdf?