Project management, Management, Personal development
Practical Project Management – for voluntary organisations
With so many elements to consider in project management, it is easy for things to go awry and for your best-laid plans to end up in a muddle.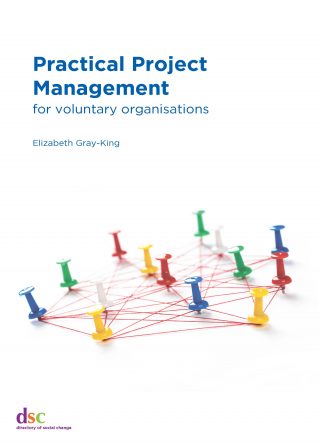 Practical Project Management is a realistic and easy-to-follow guide to managing projects for voluntary organisations. It will help you shape and structure the passion that drives your work in order to achieve positive results. The book leads you through the key stages of project management from inception to delivery and discusses the activities and decisions you will need to succeed. It covers:
Resource management and risk control
Budget planning and dealing with finances
Key tools and models for project planning
Project evaluation and assessing social benefit
Incorporating down-to-earth examples and case studies, this book will help you improve the way you deliver your projects.
NB This title includes bonus downloadable excel templates accessed by an exclusive URL.
'Some people are born great project managers, some people become them and others (like me) will wish they had read this book when a project is thrust upon them. Elizabeth draws on her considerable experience to guide you through the world of project management, translating its language and demystifying its secrets. This book will help social benefit organisations deliver projects that really make a difference to people's lives efficiently, collaboratively and with a genuine sense of pride and achievement.'

Dr Tom Knowland, Head of Sustainable Energy & Climate Change, Leeds City Council

'An excellent addition to the project management lexicon. A very accessible and useful work that will make a difference to project management in social benefit organisations – and beyond. We will be listing this book as recommended reading in all our Appreciative Inquiry training.'

Tim Slack, Director, Appreciating People

'A project manager's job is not to control everything, but to use all they have at their disposal to plan and negotiate good outcomes. With simple and accessible, yet trustworthy and time-tested tools, this guide offers a clear, comprehensive path through what can be a very daunting field. As a new project manager, I found Elizabeth's wisdom and ability to unpack complex ideas calming, which helped me to focus on what I can achieve without worrying about what I can't. She manages to strike a great balance between well-grounded theory, the realities of day-to-day project management and useful practical tools, all in a single volume. Newcomers and experienced project managers alike will find this text reassuring in its simplicity, refreshing in its clarity and exciting in its ingenuity.'

Simon Peters, Walking the Way Project Manager, United Reformed Church
Look inside
Have a look inside Practical Project Management
About the author
Elizabeth Gray-King
Elizabeth Gray-King describes herself as a 'curly-headed combination of artist, project manager and theologian.' She has more than 30 years' experience of managing social benefit projects in churches, local communities, local authorities and national organisations. She has a BA in Fine Arts, an MEd/PGDip in Professional Development and a Certificate of Theology.
In 1988, Elizabeth was ordained as a United Reformed Church minister and, since 2004, has worked in a number of wider roles for central departments. Inside and outside of the church, she often acts an interim project manager, scoping new projects to pass on to permanent staff or giving shape to complex projects. Elizabeth's voluntary sector experience spans far and wide and includes governance roles across the Midlands.
Since 1999, Elizabeth has been the Director for Gray-King & Gray Ltd (GKG), which she co-founded with her husband. GKG offers guidance, training, research and project management services to organisations within the social benefit sector. She is a long-established trainer for DSC.
Elizabeth has written on a wide range of subjects. Her published works include Speed Reads: Risk Management for DSC, When Loss is Liberation: Experiences of loss, and 'Liturgies' in A Lifetime of Blessings.
Throughout her career, Elizabeth has worked as a professional, commissioned artist and a visual theologian. You can see her art at www.elizabethgrayking.com.
Buy as downloadable pdf - Pay by card only
What is pdf?
Buy as downloadable epub - Pay by card only
What is epub?