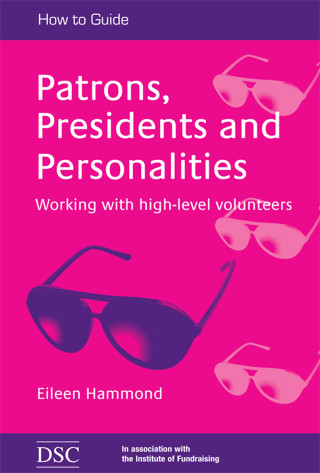 Do you have a member of the royal family as a patron of your organisation? Is the captain of the national football squad fronting your latest marketing campaign?
These relationships don't happen by accident.
Charities like yours can put in place a strategy to recruit high-profile supporters, motivate them to endorse your campaigns, use them to help gain valuable media coverage and increase donations.
This book takes you every step of the way, helping you construct your high-profile supporter strategy and put it into action, while warning you of the most frequent pitfalls that can make relationships backfire.
Who should buy this book?
Any fundraiser with aspirations to recruit celebrities, patrons and high-profile endorsers needs to read this book before even considering getting started.
What does it cover?
Patrons, Presidents and Personalities is your essential text for any charity looking to benefit from a relationship with high-profile supporters.
The difference between different types of high-profile personalities.
How to draw up your recruitment strategy and choose the right celebrity.
How to get a high-profile support on board and manage your relationship.
Understand what celebrities can and can't do for you, and the risks involved.
'Eileen brings a colossal weight of experience to an important and often overlooked part of fundraising. Don't even consider using patrons or celebrities without first reading this.' 

Lindsay Boswell, Chief Executive, Institute of Fundraising

'This excellent book is a breath of fresh air. Written with the confidence that comes from great experience and spiced with the author's own inimitable humour, it offers the reader a sensible, step-by-step approach to the pros and cons of working with high-level personality supporters.' 

Bridget Cluley, Fundraising Consultant and Trustee
Look inside
Have a look inside Patrons, Presidents and Personalities
About the author
Eileen Hammond

Eileen has worked in the voluntary sector for 35 years from Area Organiser, and Appeals Director to Chief Executive. She has been involved in the development of a number of new charities, where the recruitment of Patrons, Presidents and Personalities was an important part of raising the profile of the charity to a wider audience. Throughout that time she has also worked as a volunteer for both youth organisations, directed amateur musical productions and served periods as President of both local Inner Wheel and Soroptimist Clubs.
A Fellow of the Institute of Fundraising, Eileen is a past Honorary Secretary and member of the Standards Committee. She is a partner in the charity consultancy Hammond Associates.
Eileen is author of Patrons, Presidents and Personalities – Working with high-level volunteers for Directory of Social Change.
Buy as downloadable pdf - Pay by card only
What is pdf?