Management, Personal development
Core Coaching
Do you tell the people you manage what to do, rather than how to do it? What's the difference between managing and coaching, and does it matter?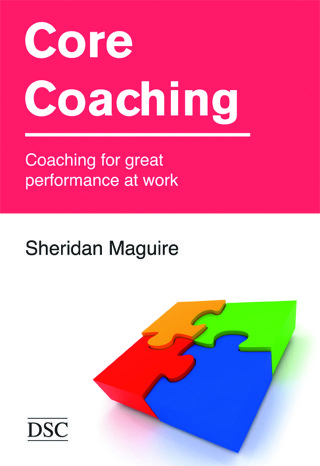 Experienced voluntary sector coach Sheridan Maguire argues that with good quality coaching skills you can develop a stronger management style, create more engaged employees, and run a more effective organisation.
You can integrate coaching into your daily routine, so it isn't something to add on top of your responsibilities – it's just another part of being a great manager.
Who should buy this book?
Whether you're a manager struggling to juggle the demands of your job, a HR or personnel specialist, or just interested in taking a better coaching approach to your work, you'll find this concise guide useful.
It is key reading for every manager, but chief executives will benefit as it encourages a trickle-down culture of coaching that will benefit all parts of your organisation.
What does it cover?
Discover the difference between management: 'what to do'; and coaching: 'how to do it'.
Features case studies showing what coaching is.
Read real life coaching conversations and how you can apply them.
Practical tools and techniques to use in your everyday work.
Clear, simple and concise.
'The book is rooted in the author's own experience as a coach and includes highly credible extracts from coaching dialogues. Core Coaching is warmly recommended.' Andrew Forrest, Visiting Fellow, Cass Business School

'The author sheds a lot of light … his no-nonsense approach brings clarity and practicality to workplace coaching.' Peter Hill, CFM Consulting
Look inside
Have a look inside Core Coaching.
About the author
Sheridan Maguire
He is a member of the Association of Coaching Supervisors, the European Mentoring and Coaching Council and is a founder member of the University of Hertfordshire's Centre for Coaching & Mentoring. His broad experience includes working in central and local government, the petro-chemical industry, the NHS, financial services, the police, the power industry, media and publishing, charities and education. Before becoming a full-time business coach in 1997, Sheridan was Director of Publishing at the Work Foundation (formerly the Industrial Society) where he developed the publications division into a major award-winning multi-media business.
Buy as downloadable pdf - Pay by card only
What is pdf?